Biography
Alessandro Danzini was born in Pisa in 1974.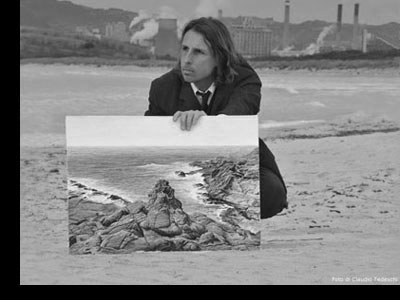 He has however always lived in the nearby Livorno, a city close to his heart.
This city has given very much to him and had a profound impact on his work: the coast of Livorno, its uneven rocks and picturesque landscapes are some of the major and most profound sources of inspiration for this artist..
The calling of art has always been something inside him, as is true for every good painter and sculptor: from his early childhood, Danzini has felt a deep-rooted need to paint and use colours, demonstrating his extraordinary ability. He has a great interest in landscape painting, a genre which has always been and will continue to be dear to him along his during artistic journey.
During his youth he studied the great impressionist masters, the most important Florentine impressionist painters and some of his notable contemporaries: remarkable works made with pencil and chalk, that the artist considers as research for a more perfect technique.
Those studies inspired him to consider other aspects of landscape art: through perspective, optical theories, the study of architecture, he discovers and appreciates technical drawing, a tool which became the basis of creating his visions.
From here he went on to study the subject in depth attending the technical school for geometers"B. Buontalenti" in Livorno, an institute with a high reputation.
For a period, he followed a different path leading in a different direction, motivated by some teaching received, because of the good results obtained in technical and project drawing, dedicating the majority of his time towards developing a reliable graphic technique and a detailed analysis of the story of architecture.
This knowledge moulded his direction of training, choosing the University of Pisa as pole of reference, and for his degree, making an intuitive thesis in the Story of Town-Planning ("The urban development of the east part of Livorno at the beginning of the 20th Century").
During his studies at University, confident in his abilities due to the received teaching, Danzini returned to classical painting, with new aims and techniques: the pictures painted in tempera on paper in this period are the start of his new artistic season, when the artist creates works that he defines as "still unripe", but which show great targets for future years.
As an experienced painter, he uses oils as his foundation, a courageous choice which allows him not only to make his pictorial views more fluent, but also to force him to pay incredible attention to the creative process, and consequently to a greater technical awareness that does not allow for distractions.
Through his choice of approach and in the analysis of landscapes and views, the teachings of his loved impressionist masters are always present, the masters "di macchia" and of "en plein air" paintings, he has faced this time with an adhesion to reality and learned from his contemporary studies of the painters of XVII Century. These teachings brought him to develop his proper figurative language found in a renewed landscape art form, almost lenticolar, making him one of the more appreciated and accredited representatives amongst those in the know.
These favourable critique accompanies him in many exhibitions (Livorno, Pisa and also Arezzo and Pistoia are amongst his favourites), alongside his most valid contemporaries proposing an artistic typology of landscape, that for many people still flourish rather than succumbing to the invasion of abstract and informal genres.
art is proof that life is not enough
Fernando António Nogueira Pessoa (Lisbona, 13 June 1888 – Lisbona, 30 November 1935)
was a Portuguese writer and poet.